Local Theatre that Tells Local Stories
 Connecting Place and People
Delta Stageworks Theatre Society brings together experienced theatre artists and community groups to present innovative new theatre projects for Delta audiences. Using the theatre art practices of collective creation, site-specific performance presentation as well as traditional forms of theatre, Delta Stageworks offers Delta theatre makers and audiences a dynamic new vision for theatre experiences in our community.
CHECK OUT SOME OF OUR CURRENT INITIATIVES!
MY MOTHER'S STORY FOR DIVERSE VOICES WORKSHOP (PHASE 2) 
Delta Stageworks' 'My Mother's Story for Diverse Voices Workshop' series with Marilyn Norry (mymothersstory.org), continues this fall and into 2022 with workshops that welcome women and men from across Delta to write about and share your mother's unique life journey.

Stageworks invites everyone to participate in this popular program; including and most especially community members who identify as BIPOC and/or culturally diverse. There is financial support for participation available through program sponsor THIS Initiative (The Harmony Initiative Society).

Led by Marilyn Norry, Delta Stageworks associate artist and author of 'Writing Women's History, Starting with Your Mother', this personal narrative arts-based program is a transformative experience. "In writing this story – and in sharing it with people from your community – you will discover things about yourself, your mother, and your family that will surprise and empower you," says Marilyn. 
NEW WORKSHOPS ANNOUNCING SOON!
Interested? Want to find out more? Email us
Then & Now: Pandemic life stories
Over the past year, Delta Stageworks has been developing a collaborative theatre project Then & Now, Pandemic Life Stories.

Through interviews we've gathered with people in our community, news events and the exploration of our own lived experiences of what it's been like to live through the monumental challenges of this last year, we've arrived at a multi-media theatrical evening of stories to share with you – Delta audiences – at Genesis Theatre in Ladner.

Join a cast of 10 community and professional theatre-makers for a  LIVE and LOCAL theatre experience that traces the ups and downs, the laughs and the lows of the lockdown life we've all been experiencing since March 2020.

Genesis Theatre complies with all current Covid-19 safety protocols for live theatre events.
TICKETS ARE NOW ON SALE! CLICK BELOW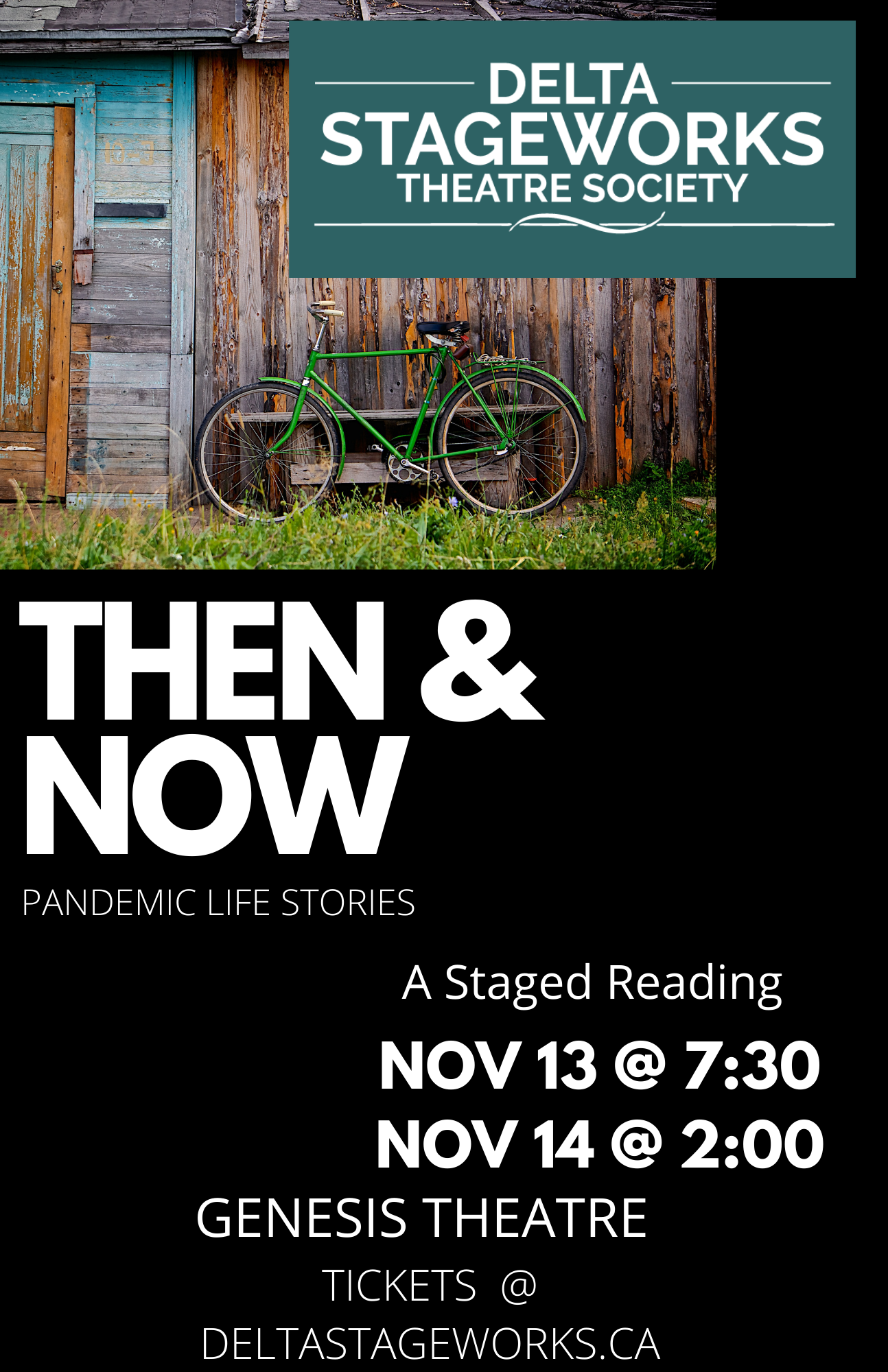 Untold Stories: Delta BC in the 1920s
Delta Stageworks' 2021-2022 living history project – a collective creation about life in Delta in the 1920s – is on hold until public health orders make our workshops feasible. The project is part of our arts-based community development program involving professional artists working together with community members and groups. We create scenes and characters based on real life events and the lived experiences of people in Delta. The working title for this project reflects our commitment to tell the stories of Delta's past that may go unheard in traditional narratives of early 20th century BC history.
For this project, Delta Stageworks has partnered with the Delta Heritage Society to provide public workshops, opportunities for youth engagement and a place for diverse community groups to share their stories with Delta audiences.
Visit the Delta Heritage Society website: https://www.deltaheritagesociety.ca
Check our CURRENT PROJECTS page for new information. 
DELTA IN THE 1920s
THEN & NOW: PANDEMIC LIFE STORIES
MY MOTHER'S STORY - WORKSHOP
Interview with Peg Keenleyside
Re-enactment honours of the 100th anniversary of armistice